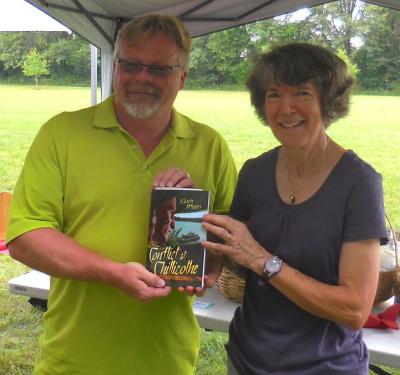 SIMON KENTON​ should be as famous as his friend and fellow frontiersman, Daniel Boone. In fact, Kenton is credited with saving Boone's life during an early Shawnee raid on Boonesboro. Readers of Conflict at Chillicothe and Battle at Blue Licks will enjoy seeing Kenton in action.

The Shawnees knew Kenton well. He had killed many Shawnee braves as he roamed across the Ohio Valley frontier. They rejoiced when they captured him, running him through many gauntlets before condemning him to die. Only the intervention of Simon Girty, a "renegade" white man who had great stature among the Shawnees, kept Kenton alive.

In my book, Conflict at Chillicothe, Simon Kenton plays a key role. Simon kept many a Kentucky settler alive through his skill as a woodsman. My character Joshua met this famous frontiersman when Kenton scouted for the army of Kentuckians who invaded Shawnee territory in 1780.

Simon Kenton's knowledge of Indian ways kept him in demand during the turbulent times of the Revolutionary War. He took part in battles alongside other famous leaders of his time, such as George Rogers Clark, Daniel Boone, and General Anthony Wayne. Kenton rose to the rank of brigadier general in the Ohio militia in 1805. Later he marched into Canada for the Battle of the Thames. During this battle, the Shawnee chief Tecumseh lost his life.

Simon Kenton, Unlikely Hero, reveals the important episodes of the frontiersman's eventful life. Young readers will thrill to read of his adventures among the Shawnee, as well as his exploits as a scout and spy.
Meet Chuck Baker, recording artist. Want to hear his Uncle Philip laugh? Conflict at Chillicothe  is now in audio book, through Amazon.


Teachers, would a Simon Kenton biography fit into your lesson plans? If yes, I would
love to talk with you about my historical biography, Simon Kenton Unlikely Hero.
           --Karen Meyer

SIMON KENTON spent his final years in Zanesfield, Ohio. He looked back on many exciting adventures and close calls during his lifetime. Yet he faced his own death fearlessly because years before he had settled matters with God. 

In 1808 Simon Kenton, concerned about his sinful soul, attended a Methodist-Episcopal camp meeting. Privately, he confessed to the preacher that he had killed many men in his 53 years. He feared that God could not accept such a sinful one as he was. When Rev. Bennett Maxey explained that God's mercy was poured out for sinners in Christ's death and resurrection, Simon claimed God's forgiveness for himself. When the Lord saved him, Simon jumped up and ran shouting to tell the wonderful news to his wife, relatives and friends.


Karen Meyer's Midgrade Novels are Published by Sable Creek Press

Interested in learning more about Simon Kenton?
Visit the following websites: